How To Check Glo Data Balance Faster
Yes, I know you have stumbled on this post because you want to know how to check Glo's data balance. You don't have to worry anymore. That's what this post is written for.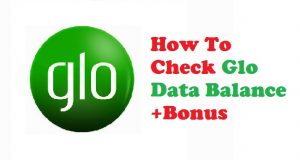 It's quite easy to forget how to check Glo balance. It's a normal thing. Especially when you're not the techy type.
Now, it's not a problem to buy a data plan, but how to check and monitor it. And yes, it is very important always to know how to check Glo data plan via SMS, online, or via USSD to enable you to monitor your purchased data if Glo is consuming more data, even faster.
Still, on that, iOS users are also in need of help on how to check Glo data balance on the Ipad. Don't worry much, after reading this post you will be able to check Glo data balance on Android and other devices without stress.
HOW TO CHECK GLO DATA BALANCE
Checking Glo data balance is quite simple, kindly below steps to make it possible. I'll be including extra tips on how to check Glo bonus data balance as well, so just keep calm and select your choice.
Check Via SMS
There are many ways to check Glo data balance and one is via SMS. Yeah with a short message sent to glo you will immediately receive your data balance details in seconds.
Immediately you'll receive a message from Glo having the data balance statement with the purchase date and expiry date.
Check via USSD
Using your dialer, you can possibly see your Glo data balance in seconds. This method is faster and easier to follow.
And Why that?
The dialer is always on the phone's Home Screen, One o'Clock you're done. So what is the code to check Glo data balance(USSD)?
Kindly open Dialer
Type *127*0# and send.
Alternatively…
You may choose to check data based on the type of plan you have purchased. It's Simple and OK either.
Just open Dialer
Type and dial *777#
Select Buy Data(by sending 1)
On the next screen,
Select Manage Plan(by sending 4)
Now select your active data plan to see balance.
HOW TO CHECK GLO BONUS DATA BALANCE
Network providers can be funny at times, they may just decide to give you a free data bonus either as a new user or an active user.
Now, what if I was given free data bonus on Glo how do I check it? Below is how to.
Simply dial *122# or
Alternatively Dial *606#
Immediately you will see a pop-up giving you details of your data bonus. Glo might send you a message.
For Glo 200% Bonus, Kindly dial below USSD code.
Dial *122*10# and that's it.
Yeah and above is how to check Glo data balance on a device. I believe you can now do it yourself. And also make sure you bookmark or save this page so you can get in touch whenever you forget.
And For more information about Glo data balance and more kindly visit their official website at www.gloworld.com, you are good.
You can as well watch the below video for more info.