Fix Oops! Something Went Wrong On Tinder (5 Quick Ways)
Oops! Something Went Wrong On Tinder
I recently noticed that a lot of individuals, mostly from a particular location have been experiencing difficulties logging in to the tinder account due to the "Tinder Something went wrong" error popping up on their device.
You are also experiencing the same issue and that's why you are here to fix it right?   Today I'm going to show you some important steps to take any time you are faced with this error popup message.
As you already know, Tinder is social mobile and web application that offers dating services, given you the opportunity to find your match by swiping right (to like) and right (to dislike) others your find on the platform.
If two (2) people happen to like themselves, they are been matched.   Now let's face it, kindly follow the below steps to get rid of the "Something went wrong on tinder to try again later" error.  
How To Fix Tinder Something Went Wrong Error
Many things come to mind anytime such problems occur. I have given the first approach to this issue and the simple solution,  so make sure you follow them correctly: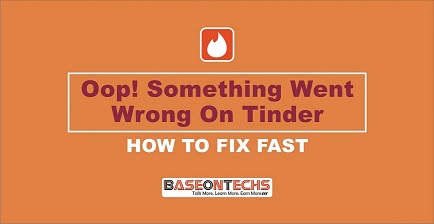 1. Is It Your Mobile Phone Problem?
Before anything, consider the following:
Network Setting | Fix Oops! Something Went Wrong On Tinder
Your network may be the major reason causing the Tinder app not to process your request.
Kindly go to your device settings.
Locate and open the "Network and Internet" settings.
Create a New Access Point Name (APN) If necessary. Or Select another APN to be activated
Now Turn OFF and turn ON back your data connection.
Change Preferred Network Type
Which Network type are you using currently? Is it 2G, 3G, 4G, or 5G? Does your device accept these network types? Use the Fastest type your device accepts.  
To activate:
Kindly go to Setting from your device usually the gear option.
Locate mobile network & Internet Option and Open it.
Now, open the "Mobile Network" option of your sim card.
Tap on preferred Network Type.
Select 3G/4G/5G.
Now, make sure your data connection is ON.
Go back and open tinder again. Are you still seeing the "Tinder something went wrong, try again later on Android? No worries, read on.
Turn ON Airplane Mode | Fix "Something Went Wrong On Tinder"
Also known as Flight mode on earlier versions on phone, it helps refresh network services, just in case there is an interruption somewhere. Drag down the notification bar on your phone. You may have to drag double times. Tap on the Aeroplan icon to turn it ON. Alternatively:
Go to Settings.
Open Network & Settings.
Turn ON the Airplane Mode switch.
Now repeat the same step to turn it off after 2minutes.
Reboot Your Device And Try Again.
Use Tinder On A Different Phone
Maybe your phone got contaminated with some ransomware on the internet, and because of this tinder has failed to log in. Go outside, ask a friend a minute on his or her phone, log in to tinder through the phone, and see if the error persists or continues.
2. Check Tinder App | Fix Oops! Something Went Wrong On Tinder
The reason why you are having a problem logging into your tinder account may be as a result of a server error in the app or any of the problems below:
Restart The App
There is a point in this. You know, most times Facebook app misbehaves and gets some loading errors. Restarting is usually the first and final solution to get it fixed. This also applies to other apps. Apply the restart strategy on Tinder And who knows, it might be the best solution for you right now.
Clear Cache And Saved Data | Something Went Wrong On Tinder
To clear tinder app cache & data, follow the below steps: First, long-press on the Tinder app icon until it shows up "App Info" or "An Upside Down Exclamation Mark (ℹ). Tap on it. It will take you to tinder mobile application information. Tap on Storage. Now Clear Cache, Clear Data.
Note: Clearing data will erase your login details and you will be asked to enter them on your next login. Every other information in your account is kept intact.
That's not a problem right? so long as it fixes the problem.
Is it Outdated? Update It.
Google apps send "update info" from time to time just to make sure users get to know and adapt to new changes made on recent technology. Every other app on the internet does the same thing and you won't say; Tinder is left out. Check on Google PlayStore for available updates on Tinder, you may be missing out. Follow the below steps to update the app:
Open Google Playstore. You should see different apps ready for download, avoid them.
Tap on the "3dash" at the top right corner of your PlayStore screen. It's on the same box with the Search and Voice Record icon.
Tap on "My Apps & Games". This is where all you have installed, yet to install, stuff you deleted from your device is stored.
On the "Updates" tab, scroll download slowly and tap "Update" on the tinder app if there's any available.
Did You Break The Law? Read The Terms and Conditions.
A lot of people have been complaining that their tinder account is been banned, because of this, they are unable to log in and continue their usual dating 👫. Every platform has a law guiding them. Without these rules and regulations, a lot of inappropriate activities will lead to the downfall of the platform. So I urge you to read Tinder Agreement and Policies just to see if you're going against any through your actions.
Delete And Uninstall Tinder Again
Contact Tinder For Help | Fix "Something Went Wrong On Tinder"
Unfortunately, tinder doesn't have any contact support for issues like this. But there is a solution. Tinder provided a Help section known as the "Troubleshooting Option" to fix a common issue like "Oops Something went wrong tinder iPhone and Android Users". See what Tinder advice you to do below:
Make sure you have a strong internet connection or try using WIFI on your mobile phone.
Update your app on AppStore (iOs) or PlayStore (apk).
Uninstall and re-install Tinder if you've got the latest version.
Avoid VPN Totally
If you fake your location in the past, tinder discovers, your account will get banned.
3. Try Browsing On The Web | Fix Oops! Something Went Wrong On Tinder
Maybe all the problem is coming from the app, let's go online.
Tinder Website.
Go to tinder.com. This is the official dating website of tinder.
Now tap "Log in with Phone Number" or "Log in with Facebook".
Failed? Tap on "Trouble Loggin in?".
Tap on "Login with Email".
Enter your email address and tap on "Send Email". You will receive a link. Once you open it, you will get logged in instantly.
Are you still seeing the "Tinder Something went wrong optional" error? Read on. Use Capable Browsers There are two (2) browsers I can guarantee you work great on stuff like this and I have given them below:
Google Chrome– Download chrome from Appstore or Playstore.
Mozilla Firefox -Download firefox from Appstore or Playstore.
Turn Off Ad-Block On Your Browser
Most browsers come with software or plugins that make certain sites inaccessible. It's even possible that you installed it yourself for safe browsing, right? The thing is; the plugins are programmed to reject certain codes that allow ads to display online. But it turns to be that, some websites use these codes to process information and may be affected by Ad-blockers. Disable Ad-Blockers and try again. Reactivate after if it's not the problem.
Allow Cookies
Cookies are tiny pieces of data sent from a website to your computer to improve the browsing experience. Now, if your browser cookies are deactivated, activate it following the below steps:
Go to your Browser Settings.
Under Advanced, select "Site Settings".
Tap on cookies and make sure it's allowed.
Browse With Desktop Version On Mobile Phone
How Possible? It's a hundred percent (100%).   If you are using one of the browsers I recommended above, you can do this as well.  
Just in case tinder fails to work on the default browser version, you can switch to Desktop view and see how it goes.
Open Chrome or Firefox browser.
Now, click on the 3dots at the top-right corner of the browser screen.
Scroll down and tick the " Desktop Site" box.
4. How Do You Sign In?
How you signed in to tinder may impact or add to why you are having log-in problems.  
I noticed that most of the people who are complaining that they see "Oops! Something went wrong" error every time they try logging in, used their phone numbers to sign in or register to this service.   Try a different option this time:
Sign in with Facebook if you used your phone number previously.
Sign in with a Phone number or Email address next time.
Disconnect And Reconnect Tinder To Facebook | Fix Oops! Something Went Wrong On Tinder
Once you are signed in to tinder using Facebook, your Facebook account is now linked and tinder will be added to your apps on FB.
To disconnect:
Open the Facebook app from your phone.
Tap on 3dash on the FB app.
Scroll down and tap on "Setting".
After that, scroll down and tap on " Access Your Information".
Scroll down again and tap on "Apps and Websites".
A pop-up will show up tap on "Apps and Websites" again. This one is for apps that you signed in using Facebook.
Locate and remove the Tinder App from the list.
To connect back to Facebook:
Open Tinder and sign in using Facebook.
Allow tinder to access your FB account.
5. Consider Other Dating Website. | Fix Oops! Something Went Wrong On Tinder
Apart from Tinder, there are many more websites where you get your soulmate. Tinder gets matches by swipes and other platforms have got different ways to do their thing. If tinder seems challenging and impossible for you to login you can try one of the options below:
POF
POF is known as Plenty Of Fish which is an online dating service in Canada. Get on POF today.
OkCupid
It is also online dating based in America and internationally operating its friendship services. OkCupid asks multiple-choice questions to match members correctly.
Match
Match.com is a popular known online dating site where you find more dates, more relationships, and more marriages than any other dating website.  
Feel free to check out one of the above dating sites, just in case tinder denies you access to your account.  
Conclusion
Tinder is a great source of getting your true matches online. With a few swipes, you get to chat and connect with your partner over the web.  
But what if you get trapped with the "Tinder something went wrong tinder" error, what do you do?  
Bookmark this guide for later use and also don't forget to share this post using the social icons below.  
Peace ✌️.