Easiest Ways To Contact EcoBank Customer Care In Nigeria
Damn! Then when you got stuck, trying to resolve an issue consigning your private information with Ecobank and the only way to get a possible solution is to contact the Ecobank customer care.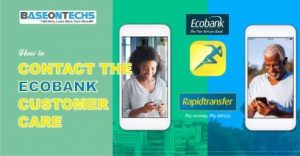 Art By Me (Mr. SEC)
Now you are here. Maybe you are interested in the product(& services) of Eco bank and want to make an inquiry or you have a complaint to lay consigning the difficulty you are facing while using any of their services.
No matter what the case may be, today, I will make known to you the various ways you can connect eco bank customer care with ease.
So it will be left for you to select an option that suits you depending on your airtime and data balance.
HOW TO EASILY CONTACT ECO BANK CUSTOMER CARE
I have mentioned it before that there are several ways to contact Ecobank and below is a good list.
Note: Before you continue reading, you should understand that "+234" is a Nigerian code for making calls. Other countries have theirs. So the "+234" is the same as "0".
For example; +2349045363829 is the same as 09045363829. So it all depends on your choice.
Again don't call with "+23409045363829". It won't just connect. Use either "+234" or "0" before dialing.
Hope you understand? Continue reading…
1. EcoBank Bank Nigeria Number + Whatsapp Number
You can use the following numbers to call eco bank customer care from Lagos, Abuja, and in Nigeria as a whole
Call: +234 (0) 700 500 0000
Call: +234 (0) 800 326 2265
Call or Whatsapp: +234 (0) 808 760 3717
2. Ecobank Customer Care Number Abuja
You live in Abuja, right? See how to contact Eco bank on phone.
The list of numbers you see below is of different branches in Abuja and calling any of them will help resolve the issue you currently have.
Call: +234 9 5234802, +234 9 5238347-8, +234 9 5234260;
Fax: +234 9 5238347-8, +234 9 5234260
Call: +234 (0) 803 402 1651
Call: 234 9 5234802, +234 9 2341090
Call: +234 (0) 803 786 9829
Call: +234 9 8822496; Fax: +234 9 8822496
We are not done yet, the phone numbers above are not the only ways to contact Ecobank in Nigeria.
They have a large customer base, so using just numbers as a form of contact is an indirect way of limiting users' desires to reach them from a distance.
See how to reach them directly online below…
3. Connect With EcoBank Customer Care Online
No limitations or restrictions. You are free to connect with eco bank representatives online via different social media platforms.
Here:
You see, it's not even necessary to have your cell phone recharge with sufficient airtime balance. As long as you have an internet browsing phone and you have access to the internet, you can possibly contact them through your favorite social media platforms.
4. Ecobank Email Address
You can also send them emails if you like. After sending a mail, you will receive a reply from the autoresponder in a few minutes but the service which will attend to your request will reply to you in 24 hours.
Send e-mails to engcontactCentre@ecobank.com
Email Address 2: ecobankng@ecobank.com
Conclusion
As you can see, it's not a difficult task to contact the eco bank customer care. You can now call them using the phone number, send emails using the email addresses above, and as well chat with them live with the link I have given above whether you live in Abuja or anywhere in Nigeria.
As long as you are a customer, you may need to reach out to Ecobank customer care in the future, and trust me, the above guide will be useful.
So if you are still having any problem contacting them, kindly let me know in the comment section below.
More Peace And Blessings.